I was in Cambridge over Labor Day, and stopped on Brattle Street to see the latest inhabitant of the Design Research Headquarters (Crate & Barrel decamped in 2008): Anthropologie. On the surface I thought Anthro was a good fit for the building. Like Ben Thompson's D/R, it is a retailer deeply invested in display, with a consistent aesthetic that spreads from clothing to housewares to accessories, and shoppers who combine objects and fabrics from around the world. There's even, often, color, particularly in the bedding.
And yet, when I got there and walked around, the floor-to-ceiling windows looked dead. There was a bob of buoys, here a room setting of distressed wood and tightly belted dresses. The silhouette they are selling this fall is everything women were rebelling against when they embraced the sack silhouette of Marimekko, sold at D/R. And the colors seemed muted, washed out by a thousand fake suns so that they look like they are from the 1950s. When you've spent three years looking at the patterns of Vuokko Nurmesniemi and Maija Isola, it can all seem rather mumsy. Needlepoint, anyone? The great dress Peggy wore in the last episode of Mad Men was far bolder in print and (odd) color combination than anything they are selling now.
They also don't get the building. Thompson created a seamless flow from outdoors to indoors by continuing Brattle Street's brick sidewalk through the corner glass vestibule. They have added a mat (probably practical for winter), and a cheap-looking light wood floor on the first level. It is the wrong wood for the period, and it needlessly complicates the path. In the windows themselves, the display people have blocked the views across and up and down the store with little lobster-shack roomettes. Like Crate & Barrel, Anthro couldn't figure out how to display without a back wall to the display windows and adding more architecture (the D/R team hung things from the ceiling, or piled thin chairs to make a see-through structure). Whatever you build looks flimsy in comparison to concrete, and mucks up the visual access. It is as if retailers don't know what to do with a space that's grand.
[My mother points out the additional weakness of the signage: the D/R sign was in neon, and so big it was set on the back wall and could still be seen from the street. Notice how dinky Anthro's lettering looks, the gold blending into the concrete, the delicate shadow, and the placement too high for the pedestrian to notice. I give them six month before they apply vinyl letters to the glass.]
The clothes, and the display, are the wrong scale.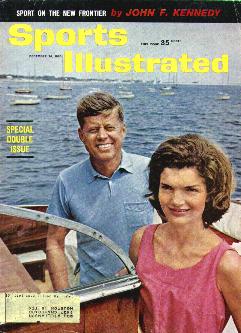 In thinking about scale, the bigness of Marimekko in comparison to Anthropologie's current patterns, my mind drifted to one of the most famous wearers of Marimekko, Jackie Kennedy. And from her to Michelle Obama. Think about the difference in scale, substance, presence of these two women. In photographs Jackie holds her own, but when she starts to speak, a little girl voice comes out. Michelle does not have this problem, nor is she a shrinking pastel violet when it comes to clothes (see the Michelle Obama Look Book on The Cut). The choices she makes in Moschino, Tracy Reese, SUNO all seem like pale imitations of the wildness of 1960s Marimekko. It is still bigger than anything we wear today.
Jackie's Marimekko was relatively tame, though pink and orange were not often seen together at the time. When I imagine Michelle Obama in Marimekko it is one of the larger, brighter prints, the ones you could practically see from across Harvard Square, like this contemporary Kruuna dress. She wore hot pink Isabel Toledo to the National Design Awards luncheon where (and I have photographic proof) she leafed through award winner Jane Thompson and my D/R book. So Marimekko could be in her future.
Obama could handle big pink and orange spots, and so can Ben Thompson's Design Research Headquarters. It is lovely that a retailer interested in color and print and the crossover of dressing and living has moved in to D/R, but I can't help wanting to shake Anthropologie up. Be bold! Florals don't have to be mumsy. Knobs don't have to have floral. Hot pink does wonders.