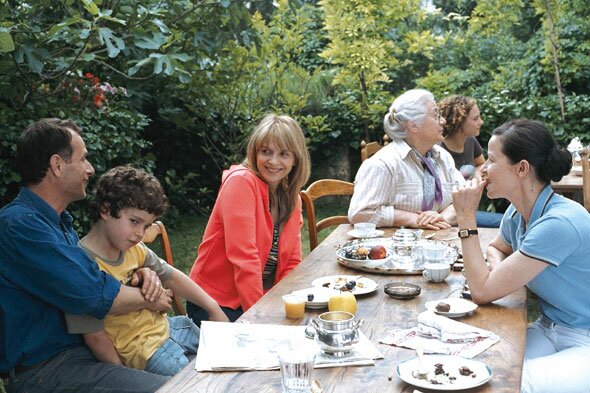 Way back in the beginnings of blogging in July, I praised the French film Summer Hours. I have recommended it to many people since, but few have seen it. Lo and behold, it is all over the New York Times' critics picks for Oscar nominees (along with a lot of other willful choices). In honor of judgement confirmed, I want to re-post my original comments about the film. Among many other pleasures, Juliette Binoche in sneakers.
Last night I discovered something very exciting: the IFC on Demand section on Time Warner Cable Channel 1000. It lists independent films that are still in theaters, including Summer Hours, a recent French film I had put in our Netflix queue after reading the reviews. Written and directed by Olivier Assayas, the film is about three siblings deciding what to do with their mother's summer house, and their mother's beloved things, after her death. It is a simple plot, one rendered realistically and without melodrama. All of the details were incredibly right, and so telling, from the terrible, practical presents the grown-up children give their mother for her 75th birthday, to the subtle career put-downs of mother to son, sister to brother. As one sibling says to another, "We don't really talk about things in this family," but in fact they do in that underground way most of us instantly recognize. The relaxed nature of the setting, of the actors, and the slow unfurling of plot draw you in so that you are right there with Frederic, Adrienne and Jeremie dividing the estate. I couldn't help but put myself in their place: what would I choose of all the beautiful and/or valuable things accumulated in that house over a lifetime?
For along with being about family relations, and about the slippage of France from its former central place in the world (one sibling lives in New York, the other in China), Summer Hours is also about changing taste. What do different generations value, and why? Is value in francs or in sentiment? The film is sophisticated enough to show us real things of value (or at least good copies of them) by real modern artists, so that we can decide for ourselves. There's the Georg Jensen tea service Adrienne (Juliette Binoche, wearing a series of high-tech hoodies), an accessories designer for Takashimaya, wraps up and takes away. There are the small, tan Corots Frederic (Charles Berling) seems to value more for their name than for any aesthetic pleasure (he's an economist). There is the Majorelle desk and cabinet, all crazy swoops and inlaid wood, that even the curators at the Musee d'Orsay question whether are ready for their revival.
The tastes that have changed are global, national and personal. For designers the movie serves as an entertaining illustration of the fact that things are more than just products. For collectors it gives notice that your children may think your prizes are disposable...or museums will one day prize the vase you always kept under the sink. It's ironic that I just praised my own Jens Risom chair, for I grew up with an original Eames LCW chair that I always thought was ugly until one day, it wasn't. My mother just gave me a gift of that chair for my finished house, where it is a lesson in patience (on her part) and the growth of good taste (on mine). My son likes to climb on it, but hasn't vouchsafed an opinion yet. He may come to prefer our equally curvy George III chairs and try to get the MoMA to take the Eames and Risom for an estate tax deduction. Once you start thinking of your things in the future, and in the market, it all becomes a little emotional.